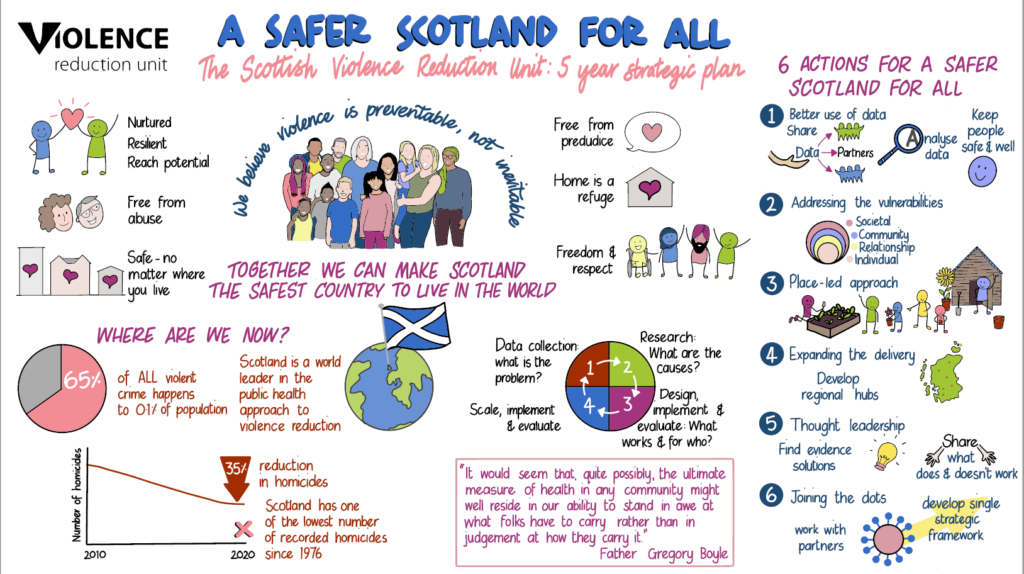 Scotland must tackle violence in the same way it has taken on Covid-19, a specialist police unit says.
The Scottish Violence Reduction Unit is calling for a major public health push across the country to drive down violence in our homes, streets and communities.
SVRU director Niven Rennie says, "We've seen how effective following the science can be in the battle against Covid-19. We must now apply the lessons learned over the last year in our efforts to reduce violence and create a safer and healthier Scotland for all."
The comments come as the unit launches its five-year strategic plan 'A Safer Scotland For All'. At the core of the strategy is the public health model which uses an evidence-based approach to target the root causes of violence.
The SVRU were the first ever police members of the World Health Organisation's Violence Prevention Alliance and are a global leader in public health policing.
"Everyone has had a role in tackling the pandemic, whether that was medics in our intensive care units or all of us doing our bit by wearing a mask and washing our hands. When it comes to reducing violence, we all have a part to play. It will take a massive team effort to protect children from trauma, prevent young people joining gangs or ensure that our homes and neighbourhoods are a place of safety rather than abuse. This isn't just a job for the police any more than overcoming Covid-19 is just a job for the NHS."
The big decreases in non-sexual violence initially seen in Scotland since 2005 have levelled off in recent years with the number of homicides in the country remaining relatively stable recently. There have been between 59 and 64 homicide cases recorded each year since 2012/13. Covid-19 will undoubtedly have an impact upon violence in Scotland, which the unit says will require an evidence-based response.
The data shows us that much of the violent crime in Scotland is concentrated on victims who suffer multiple attacks. These repeat victims are estimated to have experienced around three violent crimes each during 2019/20, but some of the most vulnerable will be subjected to five or more. Those involved are often young, male and from some of Scotland's most disadvantaged neighbourhoods*.
In a bid to help break the cycle of violence, the SVRU in partnership with social enterprise Braveheart Industries, are today launching pilot programme the You Decide Team. Based in the north of Glasgow the YDT is made up of team members with lived experience and specialist training. The YDT, which is a completely confidential service, will help individuals access the support they need whether that's help with addiction, housing, employment or more complex needs.
Project lead Callum Hutchison said: "Many people caught up in violence or gang life believe there's no way out, that prison, a hospital bed or worse is their future. But that's not true, there is a way out. We know because we see people do it every day. I'm not going to say it's easy, because it's not, but with support it can be done. Their future and that of their family and their community can be transformed." The YDT grew from a group run by Mr Hutchison at the G20 Youth Festival, engaging with vulnerable young people in the north of Glasgow. Run by the Children's Wood charity G20 have helped provide food and support to the local community throughout the pandemic.
Short videos based on the experiences of those who have successfully escaped a violent lifestyle will be running in Glasgow and Dundee over the coming weeks. They will encourage those affected to access bespoke support pages which offer guidance towards key local and national support services.
Shaun is now a YDT trainee mentor. However a year ago at the age of 25 he couldn't see a future for himself. People used to warn him the violent life he was living would leave him either dead or in prison. After receiving support with addiction he's now a year sober, with a home of his own, a job and his family back in his life. Scott said: "In the space of a year my whole life has transformed. I look to the future and it blows my mind because of the opportunities I have. My past doesn't define me in fact it's my greatest asset now."
Mr Rennie said: "The YDT is all about joining the dots between the fantastic services that already exist in these areas and ensuring no one falls through the cracks. We're following the data and working as a team to do our part to make Scotland the safest country in the world. If the last year has taught us anything it's that life-saving achievements are possible when we pull together."
Cabinet Secretary for Justice and Veterans Justice Keith Brown, said: "Scotland's approach to tackling the causes of violence where a range of services work together has had a significant impact on improving outcomes for many people and will now be more important than ever as we work to recover from the impact of the COVID-19 pandemic.
"The work of the Scottish Violence Reduction Unit over the past 15 years has greatly contributed to a reduction of more than one third in police recorded non-sexual violent crime in Scotland, but there is much more we need to do.
"The five year strategy announced today sets the direction to build on this achievement and includes important programmes like the You Decide Team's work in Glasgow to support people to turn their lives around."
Assistant Chief Constable Gary Ritchie (Partnerships, Prevention and Community Wellbeing) said: "Police Scotland's mission is not just to keep people and communities safe, it's also to improve wellbeing. To do this we work with partners, including the SVRU, as well as communities themselves to reduce vulnerabilities, address inequalities and prevent social harms.
"Officers will, of course, tackle crime when and where it happens, but in a way which recognises the circumstances and experiences which could lead to repeat offending and victimisation in the first place.
"A public health approach is now the foundation of our prevention strategies. Working in broad partnerships across sectors and systems, we're seeing major initiatives developing across the country to tackle the causes of violence and crime.
"Police Scotland is working closely with Public Health Scotland to develop a really strong partnership and we see that as being a foundation on which to build a strong public health approach across the system in the future."
NOTES TO EDITORS
'A Safer Scotland For All The Scottish Violence Reduction Unit: Five-Year Strategic Plan' is available for download at www.svru.co.uk/five-year-strategy/ The plan outlines six key actions the SVRU will take to create a safer Scotland:

Action 1: Better use of data,
Action 2: Addressing the vulnerabilities
Action 3: Place-led approach
Action 4: Expanding the delivery
Action 5: Thought Leadership
Action 6: Joining the dots

The SVRU is a national centre of expertise in tackling violence. Part of Police Scotland, but directly funded by the Scottish Government. The SVRU use a public health model to help prevent violence. Go to www.svru.co.uk for more information about the unit.
For a definition and more information on a public health approach to violence go to http://www.svru.co.uk/public-health-approach/ or https://www.who.int/violenceprevention/approach/public_health/en/
For more information on the YDT go to http://www.svru.co.uk/you-decide/
To view the YDT marketing campaign and support pages go to ………..
For more about the G20 Youth Festival, which is run by the Children's Wood charity go to https://g20youthfestival.co.uk
CONTACT
SVRU Communications Manager Claire Stewart Williams 07866080953
*For further information on data see www.gov.scot/publications/repeat-violent-victimisation-rapid-evidence-review/ Note that victims of domestic violence and members of the emergency services also are often repeat victims of violence but this isn't the audience for the current campaign.