Around 30 students and staff on the hair styling and barber courses at Glasgow Clyde College have attended a workshop looking at how to support conversations around mental health when cutting men's hair.
The Brothers in Arms charity and the Scottish Violence Reduction Unit (SVRU) delivered the training input which aims to upskill barbers in how to "reach in" to start conversations about mental health with some clients.
The training was delivered to an initial group of barbers at a Glasgow salon earlier this year before being rolled out to 12 more barbers from other salons across the city.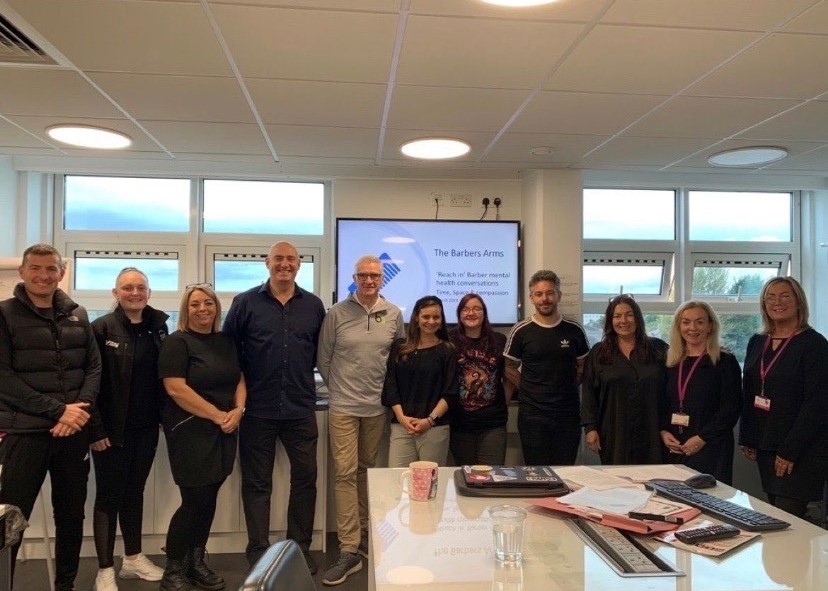 It was then offered to HND students at Glasgow Clyde College who are in their second year of hair styling and barber courses.
The college's Cardonald Campus hosted the workshop last month, with 27 students and staff taking part.
Kirsty Giles, a Project Manager at the SVRU, said: "We have been blown away by the support and positive response from the mental health and suicide prevention training day at Glasgow Clyde College.
"The passion, insight and personal experiences shared by these students, college staff and partners had a profound impact on everyone who attended.
"We discussed why people find it so hard to 'reach-in', particularly to male clients or even the males in their lives. Afterwards, students described feeling motivated to move to action with their new found knowledge and not to shy away from these conversations.
"Students also talked about feeling more confident if they had someone disclose lived experience of mental health or suicide to them and knowing what to say and what to do to help."
The Brothers in Arms charity, who run a free app for men to self-manage their own mental wellbeing, provides the aftercare element to any men requiring support.
Gary Goldie from Brothers in Arms said: "The Barber project felt like a really good fit for us as we are all about taking that first step to getting yourself in a better mental space.
"I have been especially encouraged with how the students engaged in the training and how they actively thought about how they would use the tools for these tough chats and difficult conversations that might take place.
"We understand that very often men don't talk to anyone or reach out. This approach is about how do you reach in and have those conversations? It is everyone's responsibility to look after each other. The barbers felt like a really good starting point for this training and has given us a proactive way to engage with other groups on the best ways to initiate conversations about mental health."
Claire Glen, Assistant Principal for the Faculty of Health and Wellbeing at Glasgow Clyde College, added: "The partnership with the Scottish Violence Reduction Unit and Brothers in Arms has been invaluable for our students.
"It empowers them to play a part in helping those who may be suffering but are afraid to speak out, by giving stylists the tools to start open and honest conversations about mental health and know how to support clients who are showing signs of struggles.
"Following the training, students will be equipped to catch warning signs and direct clients to important services they need to start their journey to recovery. These skills are essential and we're very proud to have this as part of our curriculum."
The SVRU is committed to delivering the pilot prevention project as part of the Scottish Government's Violence Prevention Framework for Scotland to reduce the risk of violence and harm.
The training was delivered based on the Scottish Government's Suicide Prevention principles of Time, Space and Compassion.